Dates: November 13th-15th
All Activities are Virtual – 'Live' and Recordings Only tickets available
Free Training: Your Unique Success Metrics and How to Track Them: https://pfbcon.com/unique-success-metrics/
All-Access: $197, Recordings Only: $97
6 Networking Events
15 Presentations
3 Ask the Expert Sessions (SEO, Video Podcasts, Generative AI)
3 Deep Dive Workshops (Measuring Podcast Reach, Audio Quick Fixes and Troubleshooting, State of Business Podcasting Results 2023)
Conference Slack Room, Open as of Nov. 1st.
Schedule here: https://pfbcon.com/Schedule/
Conference hashtag: #pfbcon
Copy, Graphics and Videos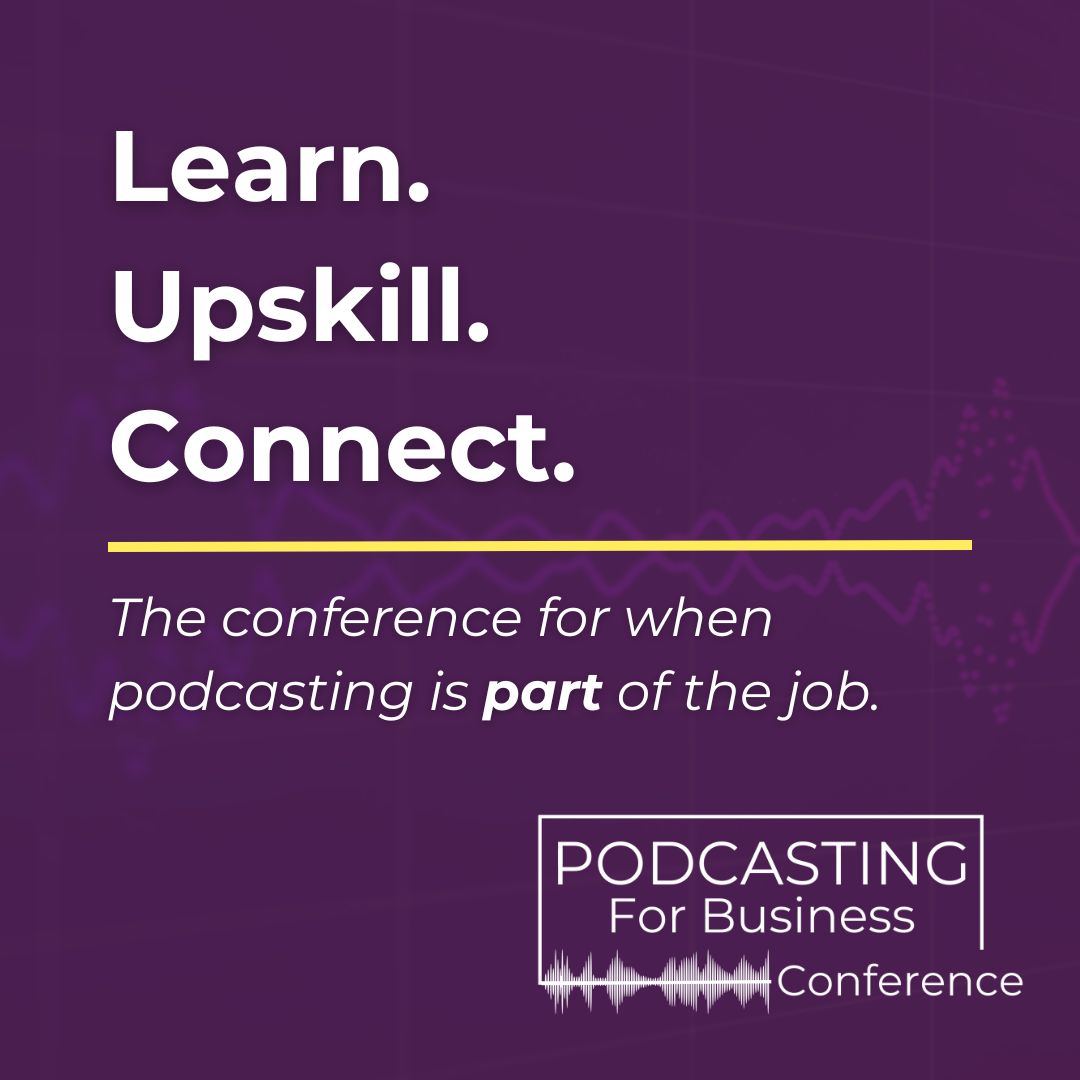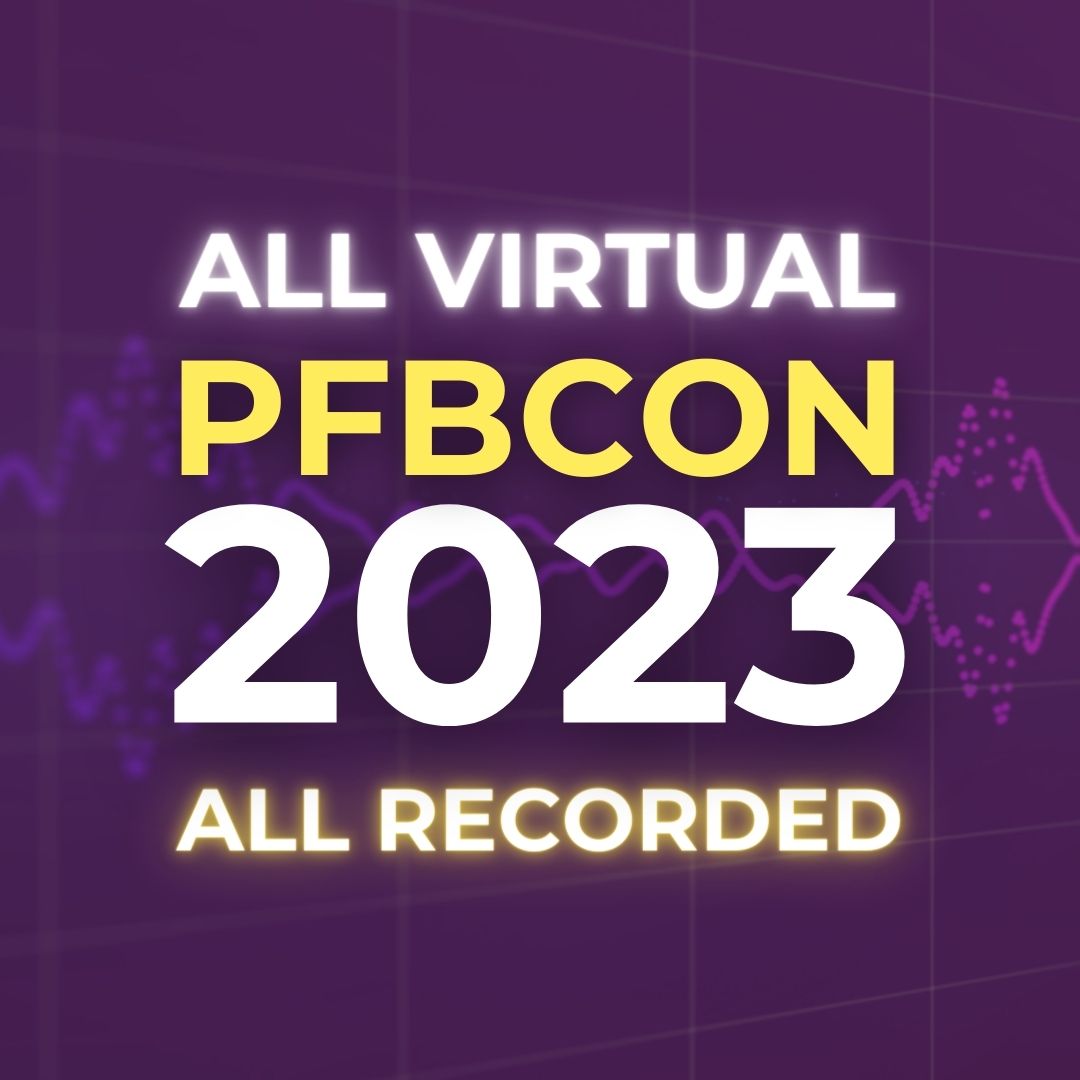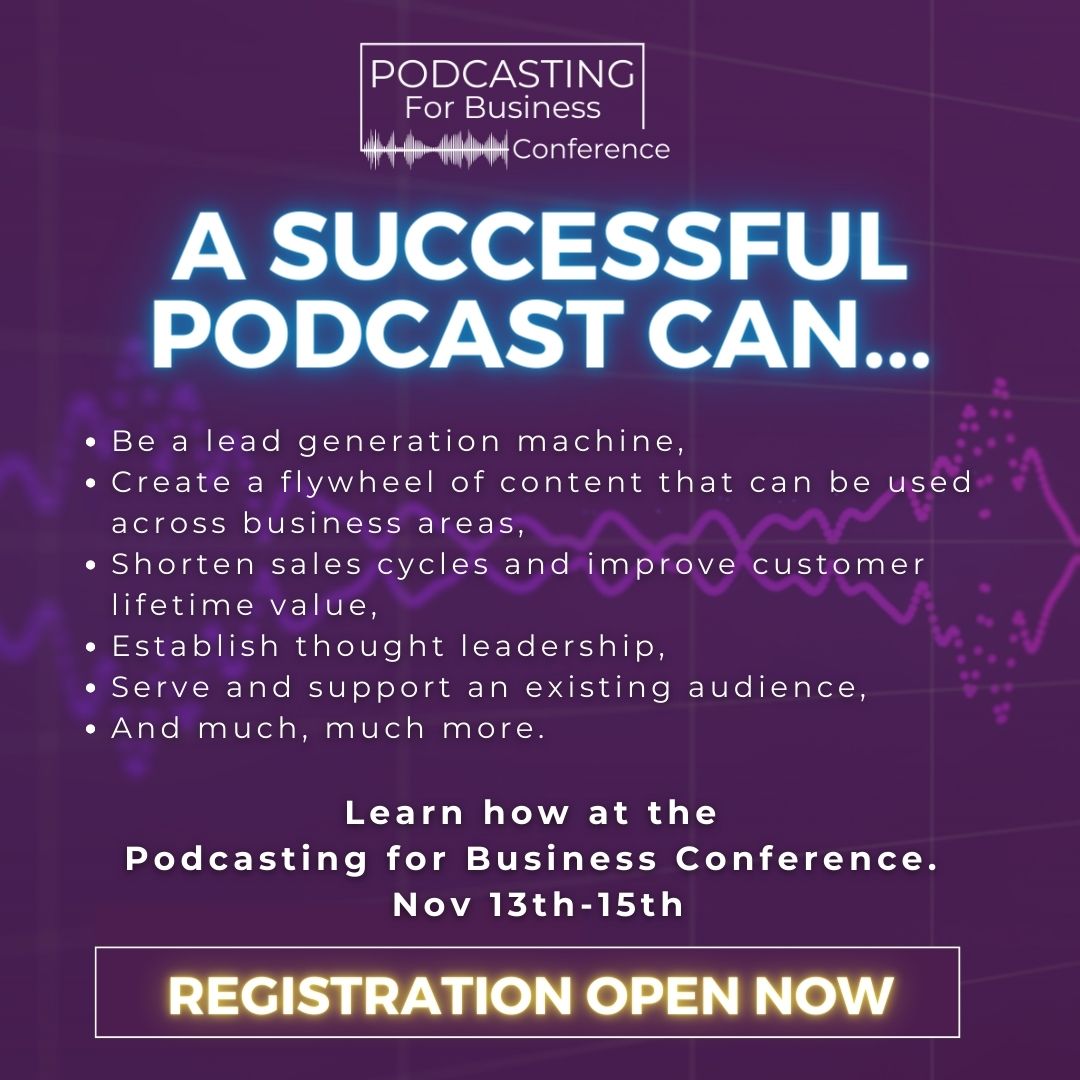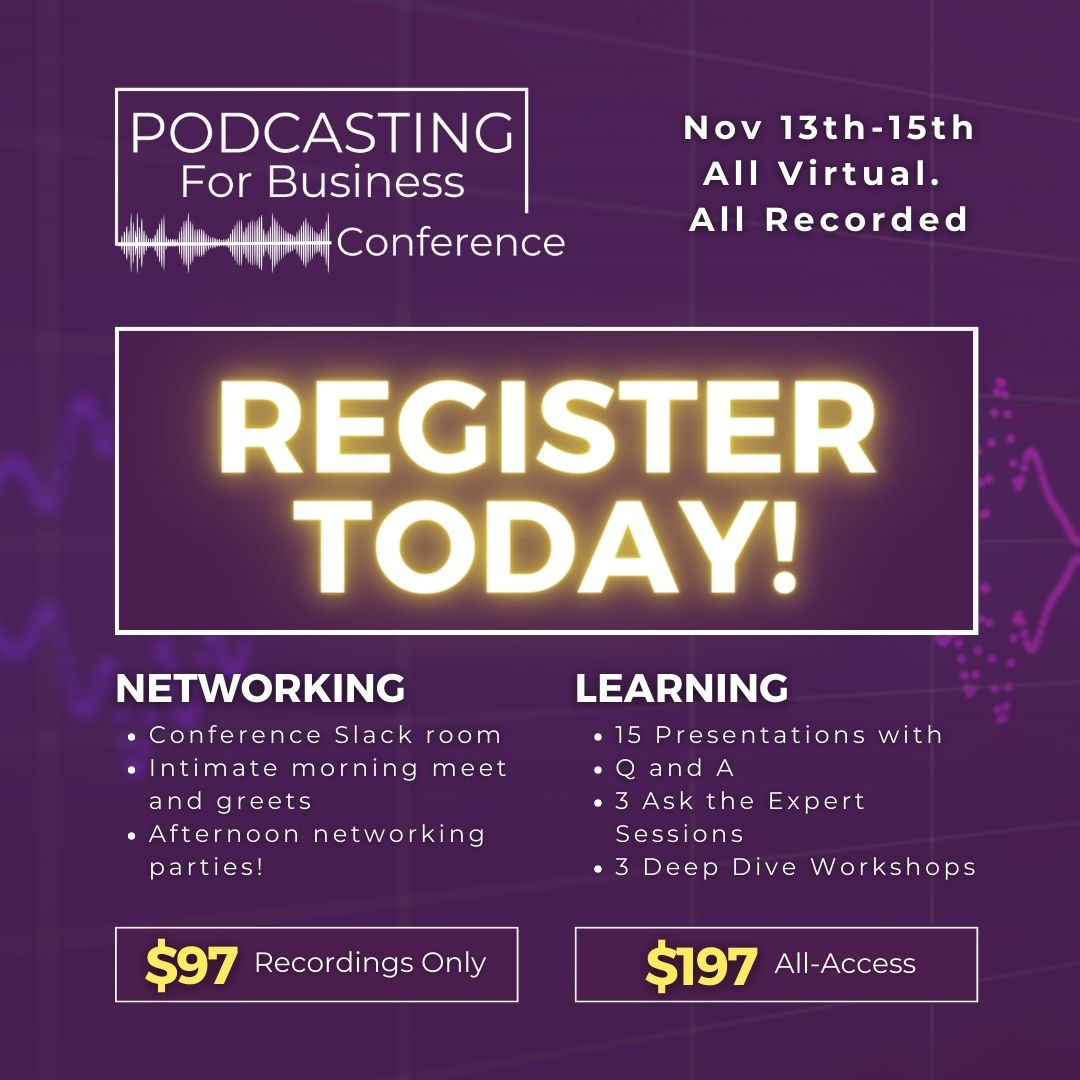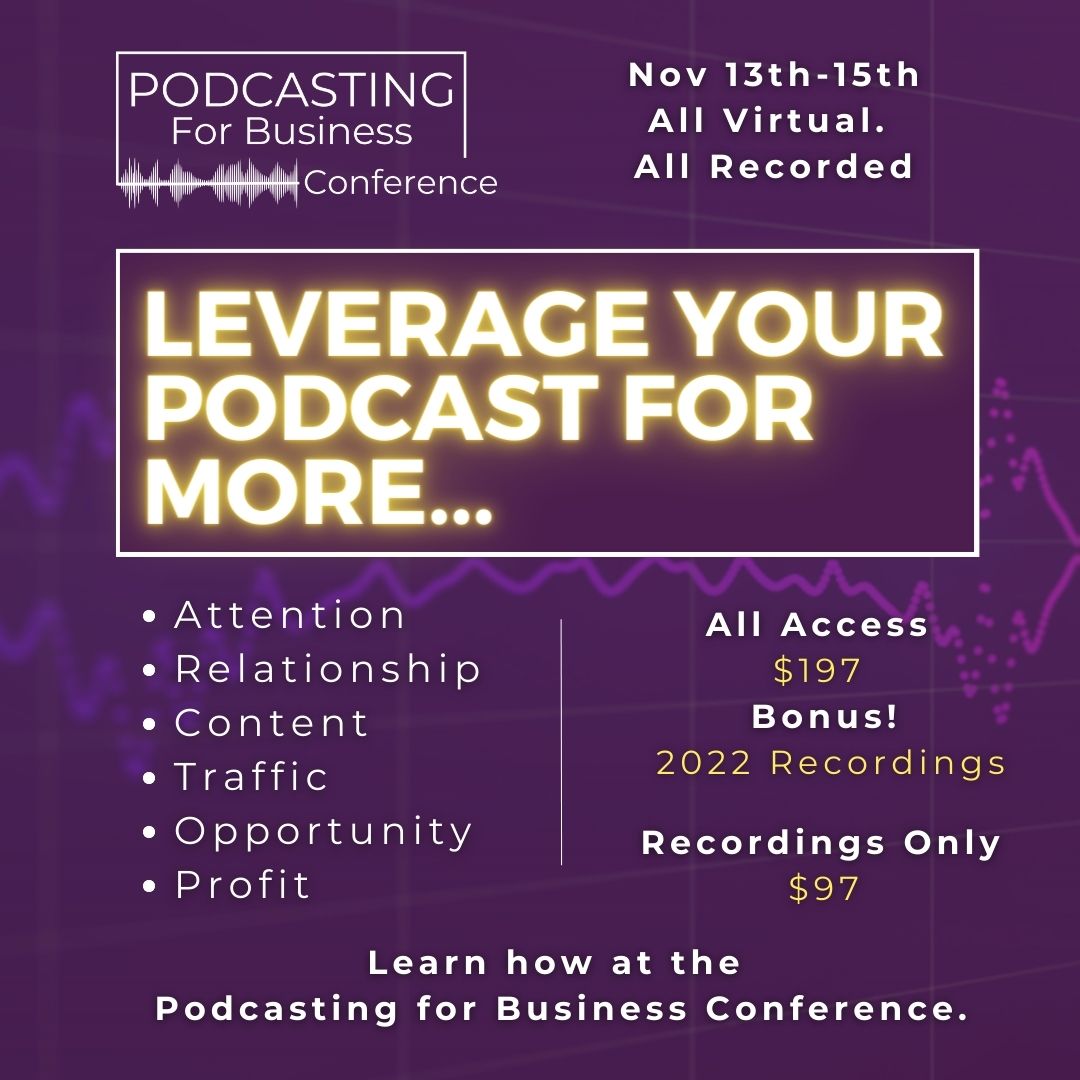 General Announcement
Subject/Heading Options:
Is Podcasting in Your Marketing Plan?
The Conference for When Podcasting is Just Part of the Job…
You're Invited to the Podcasting for Business Conference
Podcasting for your business is a little bit different than podcasting as a passion project, or even as a business in and of itself. Businesses and business owners are busy, the company show is just one of the many, many things an entrepreneur or marketing manager works on every week.
That means they need to be efficient and they need to be effective, and the results it generates need to be measurable.
The Podcasting for Business Virtual Conference is an event bringing together experts from across the podcast and content marketing industries to provide training and support to people podcasting as part of their work so they can get more value out of their podcasts, in less time.
This year's event is taking place November 13th to 15th – it's all virtual and it's all going to be recorded.
There will be 18 presentations about podcast creation, strategy, marketing, repurposing and technology, all delivered live via zoom with time for Q and A. Each day of the event is also going to feature an Ask the Expert session in a mission-critical podcasting topic, a deep dive workshop exploring key skills and data and 2 different networking events so you can connect directly with other podcasters and industry professionals with expertise to share. Attendees will also have access to a private conference slack channel to share information about your show and business, and discuss what you're learning while you're learning it.
You can get all of the details (and a ticket!) right here. [LINK]
If you register for an all-access ticket before November 1st, you'll also receive instant access to last year's recordings: 15 presentations, and 6 exclusive interviews.
Short Anouncement
Subject/Heading Options:
Ready to take your company's podcast to the next level?
Is your podcast pulling its weight in your business?
If you're a solopreneur, manager of a department, principle at a firm, a non-fiction author, or anyone else using podcasting as a part of their marketing strategy, then the Podcasting for Business Conference [LINK] will give you the knowledge, tools, relationships and data you need to leverage your show effectively within your business.
Come learn from experienced podcasters, seasoned industry experts, brilliant technicians and inspiring thought leaders from across the podcasting and content marketing worlds, with plenty of opportunities to get specific, personal responses to the issues you're dealing with in your show. You'll also have abundant opportunities to connect 1:1 with other podcast creators, service providers and subject matter experts to expand your networking, and increase your opportunities. Whether you've been podcasting for years, or your first episode is on the horizon, there is always something to learn, and this year's podcasting for Business Conference, happening online November 13th-15th is the place to do it.
Learn more, check out the speaker list and schedule, and get your tickets right here! [LINK]
Hope to see you there!
Alternate Announcement
Subject/Heading Options:
How valuable is your podcast to your company?
Expert Insight, Curated Networking and Real Answers to Your Podcasting Questions
Coming this November – The Podcasting for Business Conference
Podcasting to support and grow an existing business is different than hosting a podcast for the love of the game – or as a business in and of itself. Your podcast needs to work with the other marketing you're doing – not to mention all of the other commitments you have to your team, clients and community.
It can be a challenge to integrate a show into your workflow, and harder to determine if it's actually doing anything for you or not.
And that can be so frustrating, because successful company podcasts are intensely valuable to the businesses that run them.
A successful company show might:
Be a lead generation machine,
Create a flywheel of content that can be used across business areas,
Shorten sales cycles and improve customer lifetime value,
Establish thought leadership,
Serve and support an existing audience,
If those are benefits you want to see, then you need to make sure your podcast and all of the activities around it, from planning to recording to promotion, are optimized to meet the business objectives that will make the most impact for your company.
That's the sole focus of the Podcasting for Business Conference, which aims to make it easy and accessible for company podcasters to get the information, training, insight and professional connections they need to make their show a success – whatever that means for their business.
There is an impressive lineup of 18 expert speakers who will be delivering live presentations with Q and A, deep dive workshops about how to measure podcast success, on-the-fly audio editing and the very latest best-practice data for company podcasts, networking events for finding guests and gusting opportunities, and meeting the industry professionals who can help you grow your show. All attendees will have access to a conference Slack Group for even more chances to connect, and all-access ticket holders will receive instant access to last years recordings.
Sound good? Then Check out the conference website and get your ticket! [LINK] It's all happening November 13th-15th – and if you know you won't be able to attend it live, you can purchase a recordings-only ticket, and still have the opportunity to submit your questions to the expert presenters, and join the conference Slack room.
Free Workshop Invitation
Subject/Heading Options:
What Are Your Podcast's Unique Success Metrics?
Are you tracking Your Podcasts Impact?
Is Your Podcast Successful?
One of the biggest worries companies have about starting a podcast is whether or not it's going to be successful. No one wants to start a project doomed to failure.
But what is a successful podcast anyway?
Is is one that can be quickly monetized? That gets a lot of downloads? What about one that generates lots of new relationships? Maybe one that keeps you top of mind among your audience?
Yes. But maybe no. It depends.
What makes a podcast successful is entirely dependent on what your business objectives are, and whether or not a podcast can help you meet them.
So to make your own company's podcast successful, you need to determine exactly what success means within your business, and the specific ways that a podcast can help you achieve those success. That will help you determine what to track to see if you're on the right path.
Every podcast, and every business, is different -but there is a method you can use to determine how a podcast can make an impact in your business, and how to track it. On November 7th at 3pm EST, you're invited to attend a free training webinar where Megan Dougherty, creator of the Podcasting for Business Conference, will be looking at the different kinds of business benefits and podcast can help you achieve, what specific metrics will tell you if you're making the right choices.
This is going to be a hands-on workshop, that digs into the Business Podcast Blueprints – a system that will help you identify the metrics that matter the most to you, and how to use them as a strategic filter for all of your podcast-related decisions. You'll leave with a solid understanding of the podcast metrics that matter the most to your business, and how you can track them month over month to measure your progress.
This is going to be a great call – check out the details and reserve your spot right here! [LINK]
6 Reasons to Attend
Subject/Heading Suggestions:
6 Great Reasons to Attend the Podcasting for Business Conference
Why You Should Attend the Podcasting for Business Conference
Hi [NAME],
I wanted to share with you a few really, really good reasons to attend the Podcasting For Business Conference this November 13th-15th.
15 Live Presentations with Q and A – All recorded! There are presentations on everything you need to plan, record, and promote a podcast that makes a meaningful difference to your bottom line.
6 Virtual Networking Events where you'll have the chance to meet other podcasters, podcast industry professionals and service providers. You can find guests for your show, referral and collaboration partners, maybe even a new producer. We can achieve more together than we can alone!
3 Deep Dive Workshops where you'll learn about some of the most vital elements of podcasting: how you're tracking and communicating your reach, how to handle your own audio editing and troubleshooting so you're never caught in a pinch with poor quality sound, and the latest best practices from the State of Business Podcasting Report, and how you can apply them to your business.
3 Ask the Expert Sessions where you'll have the chance to talk directly to experts in Generative AI, Video Podcasting and Podcast SEO, and get real solutions to the challenges you're dealing with.
Conference Slack Room Networking events are great – it's why there are going to be 6 of them – but they don't quite replicate "the hallway" at an in-person event. So there is going to be a conference-attendee only slack room where you can chat with other attendees, experts and presenters starting on November 1st.
It's all Virtual and It's all Recorded. You're running a business or a department, or generally have a lot more you need to be working on every week than just your podcast. The Podcasting For Business Conference has been designed with the fact that you probably can't attend everything live while t's happening – that's totally fine! Attend what you can, and submit your questions in advance when you can't, so you still get the personalized support you need.
That might actually have been 29 reasons to attend the event. Have I convinced you? If so, grab a ticket and I'll see you on November 13th-15th!
Short Form Socials
🎙️ Podcasting can be a game-changer for your business, but you need more than a mic and an idea. Your podcast should align with your marketing business goals. Join us at the Podcasting for Business Conference to learn how to make your show work for you. [LINK] #PodcastingForBusiness #PFBCon
—
What is the impact of your company's podcast? 🤔 It can generate leads, fuel content creation, boost sales, and more! Discover the secrets to success at our upcoming conference. Don't miss out! 🔥 [LINK] #BusinessPodcasting #PFBCon
—
Ready to level up your company's podcast game? 🚀 Join us at the Podcasting for Business Conference for expert insights, hands-on workshops, and valuable networking opportunities. Grab your spot today! [LINK] #PFBCon #BusinessGrowth
—
🗓️ Save the date! November 13th-15th, the Podcasting for Business Conference – for when podcasting is just part of the job. Can't attend live? Grab a recordings-only ticket and still join the conversation. Don't miss this opportunity! 🎉 #Podcasters #PFBCon
—
What has 18 expert speakers, 3 deep dive workshops, and 6 networking events, and is all virtual? The Podcasting for Business Conference happening November 13th-15th. . Get your ticket now! [LINK] #PodcastingForBusiness #PFBCon
Embed Code:
<div style="padding:56.25% 0 0 0;position:relative;"><iframe src="https://player.vimeo.com/video/865709129?badge=0&autopause=0&player_id=0&app_id=58479″ frameborder="0″ allow="autoplay; fullscreen; picture-in-picture" style="position:absolute;top:0;left:0;width:100%;height:100%;" title="SpeakerAnouncementVideo"></iframe></div><script src="https://player.vimeo.com/api/player.js"></script>